If you rely upon a private well for your family's water an annual well water testing program should be high on your "to do list." If you have a shallow well you should have water tested more than once a year – ideally, spring and fall but anytime you notice a potential problem. For water wells in and around Cross Plains WI water should always be tested both at the tap and at its source. Dual tests show clearly if a treatment system isn't working properly. The quality of water can change from point to point.
In recent years flooding rains and melting snows have threatened to contaminate ground water in our rural areas. Timely well water treatment restores not only water quality but peace of mind.
Well Water Testing – Timing Is Important
The first step to maintaining quality well water is to have a licensed professional test your well. The list of potential contaminants is long and growing. These foreign agents creep into ground water and can impact your water supply without warning.
Accurate, timely water tests are not just a good idea, they're required by law – you have to produce written records of tests and treatments when you sell your house. The Wisconsin Department of Natural Resources (DNR) certifies professionals like the staff of Sauk Plains Plumbing to provide accurate test results.
Potential Sources Of Well Water Contamination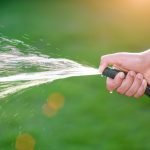 What among the many potential pollutants do testers look for? A routine test screens for critical elements including:
Bacteria – coliform bacteria, specifically. It's a disease-carrying bacteria often found in water supplies. If bacteria has ever shown up in a water test you should test for it more than once a year. If you notice a change in your water's color, taste of it looks cloudy, check bacteria levels right away.
Nitrates – a form of nitrogen, nitrate cause serious illness, especially in small children. A positive test for nitrates indicates the possible presence of other contaminants, too. Test new wells for nitrates more often than older, established wells.
Chloride – high levels of chloride is a sign that a septic system or nearby landfill is leaking into ground water. It can also come from excessive levels of fertilizer or road salt.
Alkalinity – the level of alkalinity indicates the water's likelihood to be corrosive to pipes, pumps and fixtures.
Corrosive potential – there are additional test to see if water is likely to corrode household fixtures or create deposits in pipes.
Hardness – so you know if you need a water softening system.
Lead and heavy metals – dangerous metal elements like lead leach into well water from old pipes, solder and external sources. They represent serious health risks.
In the end, results steer plumbing professionals toward additional tests and appropriate water well treatment.
Location Dictates Level Of Risk To Water Quality
Where you live and what goes on in your neighborhood has a lot to do with how many and how serious the risk are to your water. Ground water is a delicate resource subject to a variety of threats. Well-built wells are safe for a long time as long as they are away from outside sources of contamination. Distance from potential pollutants is more than good sense, it too is the law. Wisconsin has regulations dating back nearly 100 years outlining what it considered "far enough" away from these sources.
Concerns arise not only when buying property and knowing what's surrounding it, but complications come up as land development continues after a well goes in. It is up to you to be aware of your surroundings. The DNR provides the following minimum distances from potential pollutants:
Livestock feedlots – a minimum of 50 feet to protect against nitrates and pesticides.
Industrial locations – minimum of 250 feet, guarding against chemicals used and/or stored.
Landfills – minimum of 1,200 feet to avoid heavy metals like iron as well as ammonia, chloride, etc.
Mining – minimum of 1,200 feet to guard against sulfates, acidity, etc.
Pesticide facilities – minimum of 100 feet to protect against contamination from spills during loading, mixing and storage.
Salt storage facilities – minimum of 250 feet away from sources of chloride and sodium.
Underground storage tanks – 100 feet from commercial tanks and at least 25 from home heating oil tanks.
Wastewater systems – minimum of 25 feet from a septic or holding tank; minimum 50 feet from septic absorption field; minimum 250 feet from lagoons, etc. Avoiding coliform bacteria, nitrate, etc.
Water Well Record Keeping
Any well drilled or jetted since the 1930s has to have a construction report on file with the DNR. They provide valuable information for future treatment should a problem arise. Reports from wells installed after 1988 are available on the DNR website. The reports include:
The date the well was drilled
The original owner's name
The measured distance from structures – septic tanks, etc. when first installed
The diameter and depth of the hole
What type of casing and all the materials used
The type and depth of soil and rock formation
The depth of the water table at the time
The initial water yield
As a well owner you should keep a detailed well maintenance history – recording water testing dates, findings, actions, inspections and repairs. In addition to monitoring water quality, regularly check the condition of the wellhead – look for damage, corrosion, etc. on covering, casing and cap.
Do Not Undervalue Well Water Testing
It may be easy to put of having your well water tested but it is truly a matter of protecting your family. It is important to know the quality of your water no matter what it is used for – family drinking, cooking and bathing or livestock watering, chemical spraying or just washing the car. With all the details, water testing is important because:
It identifies existing and potential problems
It makes sure your water supply is safe for whatever you is for
Test results allow you to track changes
Findings indicate the effectiveness of your water treatment system
There is only one way to know if the water supply to your home is safe. Get your water tested by a professional.  Schedule an annual checkup. But if you see, taste or smell changes contact our certified, licensed plumbers at Sauk Plains Plumbing – Call 608-798-2121. Call upon us to protect you family and its water supply with a timely well water testing program in Cross Plains WI, Verona, Waunakee or Middleton WI.