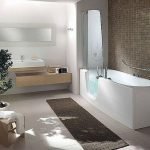 Walk-in Tubs – Popular Fit For Universal Living Plan
From TV to dozens of publications, it's clear that walk-in tubs as part of bathroom make-overs are on the minds of homeowners. Especially those looking to prepare their homes for its aging residents. Call it "Aging in Place" or universal living, the idea of making life easier for Middleton WI residents who want to stay in their homes makes sense.
Rethinking floor plans and bathroom fixtures to accommodate aging or physically challenged people is at the core of bathroom designs for universal living. While "Baby Boomers" get headlines for their interest in walk-in tubs and other amenities, these comfortable, versatile creations aren't just for "old people."
Walk-in Tubs Make Life Easier Madison WI
Just as many remodeling plans take out traditional bathtub and shower combinations in favor of walk-in showers, the addition of walk-in tubs makes life easier for anyone. Reducing the need to reach, climb, bend or stretch benefits users of all ages. Statistics show the bathroom to be one of the most accident-prone rooms in the house, so reducing the risk of falls makes sense.
Nearly 90% of homeowners plan to stay in their homes as long as they can. That may require advanced planning and changes. Things people take for granted may become challenging as they age. Simple things, like stepping into and out of a traditional bathtub – getting out is the most difficult as you lose mobility and strength.
Designs Fit Today's Style – Don't Think Old
Resist the image of the elderly person being helped into the walk-in tubs you see on TV. As these units gained popularity, designers and manufacturers have kept pace with demand. Today's walk-in style tubs can be sleek and stylish. There are designs to fit any decorating and life style.
Consider these features:
Doors with double-gasket seals – no fear of leaking
Doors with full-length hinges for added strength
Non-skid floors and seats
Safety rails and hand-holds
Faucets and fixture from the top brand manufacturers
Many shower options that can be used seated or standing
Options may include heaters to maintain water temperature
Many available with "jets" (water or air) to provide hydrotherapeutic massage
Walk-in Tubs Aren't Perfect
Like most things, there are pros and cons with a walk-in bathtub. Consider these inconveniences:
You must be in the tub before filling it with water – providing the challenge of not only staying warm while the large vessel fills, but adjusting the water temperature as it does.
On the flip side, you must stay in place while the tub empties facing similar temperature issues.
Because these tubs usually hold more water than traditional bathtubs, larger hot water heaters may be required.
Manufacturers are combating these drawbacks with rapid-fill faucets, fast-moving drains and water temperature controls but nothing has been perfected, yet.
Weigh Universal Living Options Before Making The Change
Bringing in a new walk-in bathtub isn't the only way to accommodate a plan for universal living, so all the options should be considered. Here are a few of the most obvious benefits of a walk-in unit for your bathroom:
Walk-in tubs can be a solution to the problem of limited mobility – you walk in and sit down.
Hydrotherapy benefits muscle tone and flexibility – just like an athlete's whirlpool treatments, tubs with this feature combine heat, buoyancy and massage to ease aches and improve circulation.
An insurance policy in the bathroom – walk-in style tubs reduce the risk of falling, the number one fear of older adults.
Don't give up the shower – stylish tubs you can simply walk into still come complete with showers so it's not a "one or the other" decision. A nice option in a home with users of various ages.
Personal hygiene can be a challenge if you cannot bathe regularly – walk-in facilities make a routine bathing schedule safe and possible.
These tubs allow people to age in place, stay in their homes, as they get older. Adding a walk-in tub, when weighed against the cost of moving is a wise investment.
Investing for the future – putting a walk-in bathtub into a new or remodeled bathroom not only provides independence and safety for an aging population, it can add to the value of the house.
Incorporate Comfort, Safety Into Your Future
Sauk Plains Plumbing and Pumps is always ready with a complete line of products for installation, maintenance and timely service – including renovations to add walk-in tubs and up-dates aimed at comfortable bathroom styling for universal living.
Call Sauk Plains Plumbing at 608-798-2121, to enhance your ability to stay at home as you age, taking advantage of features the concept of universal living has to offer – including comfortable walk-in tubs. For answers to questions on walk-in tubs, universal living and any plumbing service in Cross Plains, Verona, Waunakee and Middleton WI, call today.