Is a walk-in bathtub just for the old and infirm? If you think a walk-in tub means giving in to old age, look at what's new in walk-in tub technology. True, walk-in installations are great features that allow an aging population to "age in place." However, today's walk-in tubs are stylish, safe and enjoyable. Adding one to your Cross Plains WI or Middleton WI home is an investment for all ages. Great for an aging population or for anyone with a mobility concern, walk-in tubs have come a long way.
Are you looking into the future and planning to stay in your home for many more years? If you are, creating a bathroom remodel specifically to incorporate a new walk-in bath feature may make sense right now. Even if you're considering a simple update or expansion, one of the many walk-in options elevates a bath routine. Walk-in tubs provide the ultimate in relaxation within a spa-like setting. Modern systems combine safety, comfort and peace of mind. What more can a basic bathroom fixture do?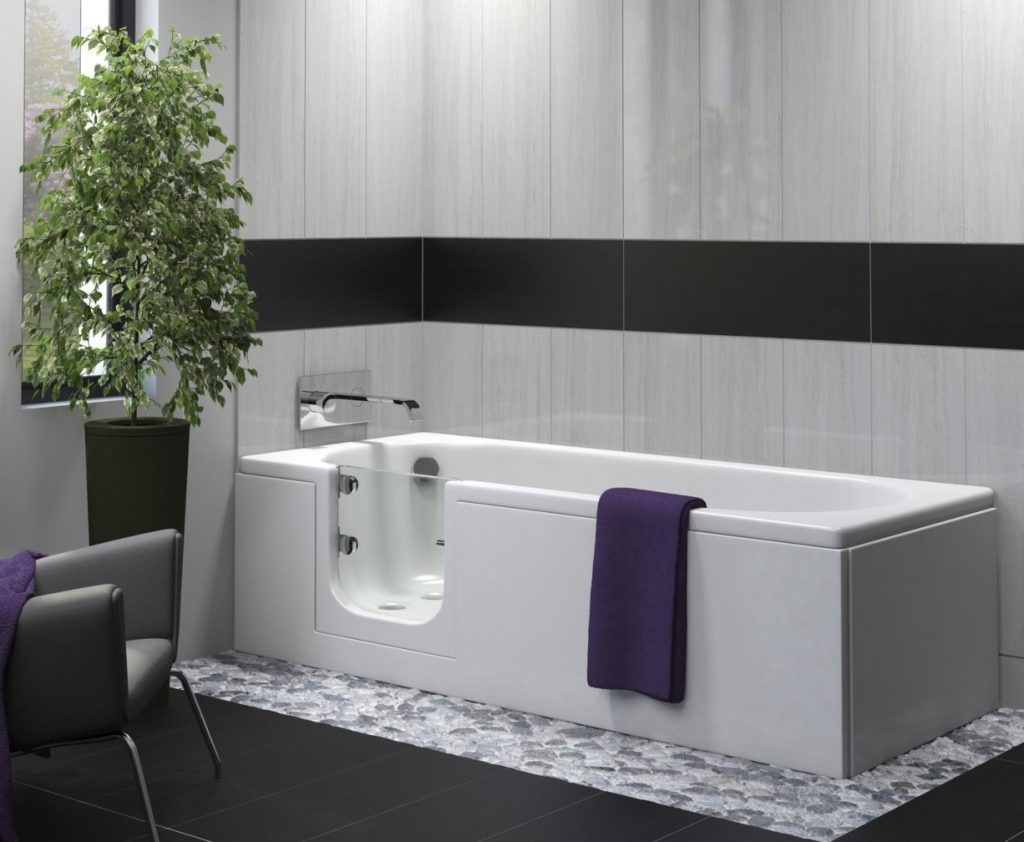 Thinking Of A Walk-in Bathtub – Think Positive
Walk-in bathtubs are known for three positive attributes: Comfort, Safety and Performance. Walk-in tub makers take different approaches to but they all provide all three. In some cases style gives way to function and accessibility. For others it's all about modern styling. Depending upon what you're looking for, you can find one to suit your needs. Consider these options for your home and family:
Personal safety — homeowners aging in place or rebounding from physical challenges put personal safety in the bathroom as top priority. It is non-negotiable. Walk-in access with non-slip surfaces reduces the chance of a fall. Getting in and out is safe. In addition, a bath provides comfort and pleasure even walk-in showers don't match. Look for safety features like:

A low, easy clearance step-in

Slip-resistant surfaces including on the seat

Wide, easy operating door

Easy to access controls for all the different functions

Individual comfort — so many combinations of comfort-oriented features aren't usually available in any other bathtub. With its heritage as an aid to physical wellness, hydrotherapy is a major positive. Additional comfort features include:

Rapid-fill/fast –drain capability

Performance — your new walk-in tub can combine all the features that make bathing enjoyable and safe with a touch of spa-like elegance. As you get older moving freely, independently in the bathroom in on your mind, isn't it? As it should be. The bathroom is the most dangerous room in the house when it comes to falls.
Walk-in Bath Features – Focus On Seniors
While each of the positive feature is important in its own way, some are more critical to older homeowners. Among the most important for an aging population are:
Step-in height – look for a choice with the lowest step-in height possible. Stepping up and over the rim of a tub or shower is one of the biggest risks for a fall. Some tubs have "step-over" heights of 6 inches or more while others are about half that.
Handrails and grab bars – as you get older, falling is the No. 1 fear. Having the ability to enter, exit and operate a walk-in bathtub safely is vital. Modern tubs provide handrails and easy-access grab bars in strategic places. Don't commit to any model without making sure these safety features are within easy reach, etc.
Non-slip, textured surfaces – also related to a fear of falling. Can you can't relax if you're afraid of a slip? Make sure the whole floor, seat and step-in area are non-slip. You want to be assured they're safe when they're wet or dry.
Therapy – there's science behind the "feel good" features of today's walk-in tubs. That includes heated surfaces and hydrotherapy jets. Well-placed air and whirlpool jets massage aching muscles and sooth joint pain. Built-in heating elements make tubs comfortable they fill and drain. Physical therapists suggest paying attention to the quality, adjustability and power of the jets. More jets isn't always better – too many outlets decrease the overall power of each one.
Hand-held showerhead – for real luxury and appeal to younger users, combine the comfort of the bath with convenience of a refreshing shower.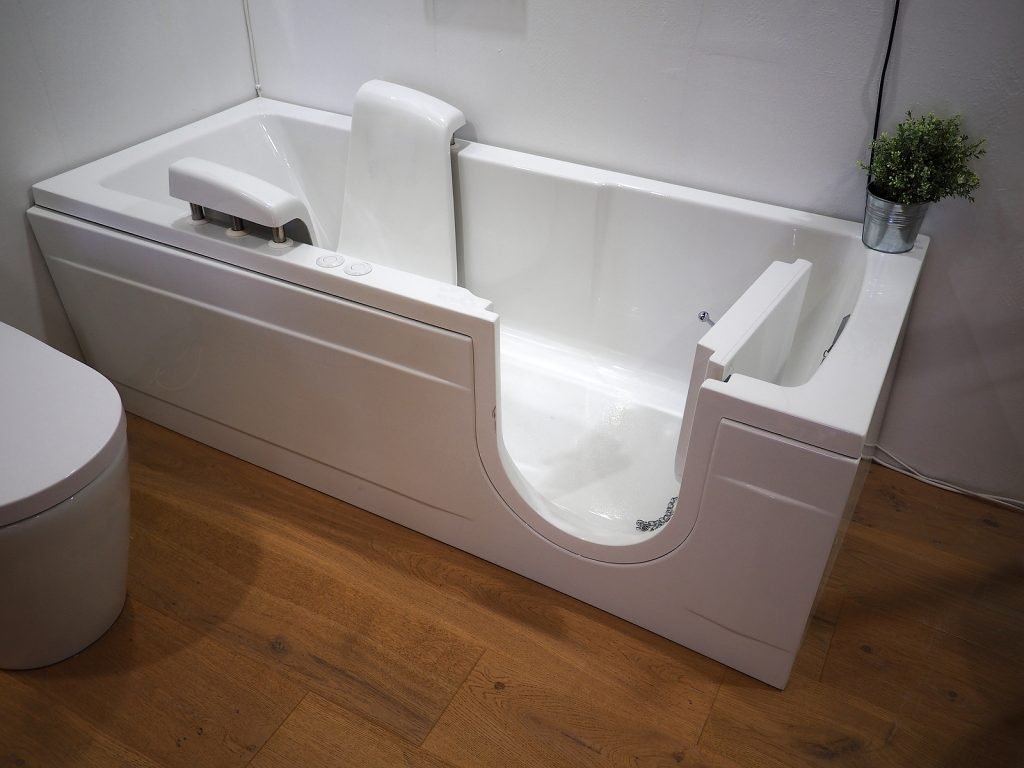 No Need For Drastic Make-over – A Walk-in Bathtub Fits
TV, print ads and videos make it look so easy to convert your bathroom to a walk-in tub. An obvious question: "do walk-in tubs fit every bathroom?" There's no single right answer. But, as demand for them increased, walk-in units became more versatile and stylish. No "one size fits all" but there are sizes to accommodate your needs. Many fit existing spaces while others are great additions to an energized new bathroom footprint.
Another great attribute is a walk-in tub maximizes the space it takes up. For basic-styled units extensive renovations are seldom necessary. Common walk-ins are designed to fit the existing footprint of a traditional tub (usually 60" L x 30" or 32" W). Included among new more stylish models are units matching popular free-standing soaking tubs, too. You can find custom tubs are as much as 5 feet long. The big difference between a standard tub and a walk-in is in overall height. In a walk-in tub you'll soak in nearly 3 feet of water – 32 inches is common. And unlike tradition tubs you don't fill these first and then get in. You get in and wait as the large tub fills. That's why a heated surface and access to plenty of hot water is critical. You have to wait until it's empty before you get out, too.
Walk-in Tubs Aren't For Everyone
You can list appealing features and benefits to addinga walk-in tub to your bathroom. However, high-tech units are not for home or lifestyle. There are disadvantages. Before making a commitment keep in mind:
Initial cost – walk-in tubs cost more than standard tubs. Of course, they really do provide you with a "get what you pay for" return. They have features unavailable in any other kind of tub.
Demanding installation – sure, walk-in units can be installed quickly with a minimum disruption but they require experienced plumbers to do the job right. Unlike standard bathtubs these units need both plumbing and electrical connections. Each must meet all building codes and regulations.
Demand for hot water – like any large soaking tub, getting hot water quickly is vital. To accommodate the tub's large capacity, consider upgrading your hot water heater when you install a walk-in tub system.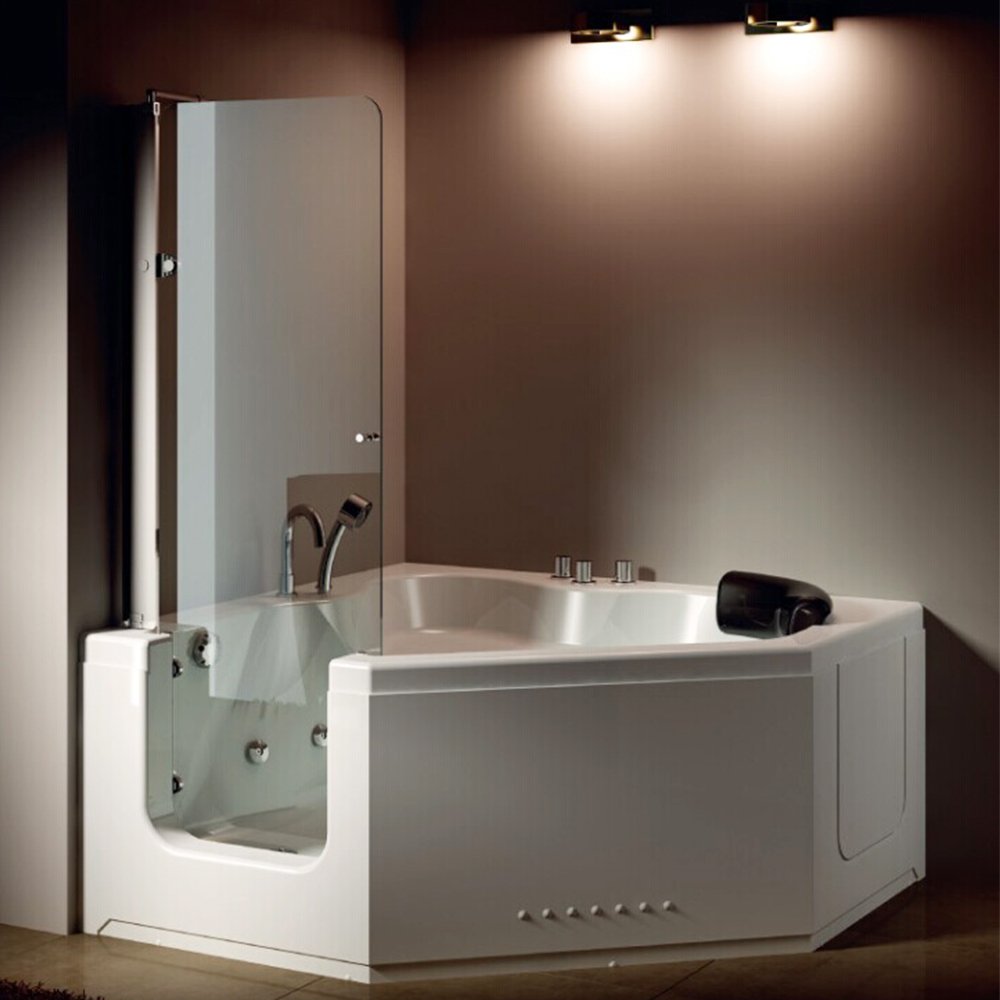 Rely On Walk-in Bathtub Installation Pros
Adding a walk-in tub with all its many features creates an exceptional bathing experience. For some it's a luxury, for others a route to staying safe and comfortable in their forever home. No matter why you choose one, a new walk-in tub delivers peace of mind, safety and comfort. Are you considering renovating your bathroom and including a new easy-access bathtub? When you're ready for a new tub or hot water heater to supply it, call Sauk Plains Plumbing at 608-798-2121. We welcome a chance to share with you the many walk-in tub options. And we'll evaluate your home's hot water delivery system at the same time. You don't want to get ready for your first relaxing bath in the new tub and find your hot water heater can't handle it, do you? We're ready to provide everything you need. Our certified plumbers can install a walk-in bathtub that's ideal for your Cross Plains WI, Verona, Waunakee or Middleton WI home.