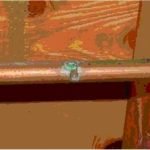 The Dangers of Pinhole Leaks In Your Plumbing
When your plumbing is working as it should, it's the last thing on your mind. As a result, most homeowners don't think of their plumbing until there is something wrong.
When Your Plumbing Is An Inconvenience Or An Emergency
Sometimes there are breakdowns of water heaters, or garbage disposals or even a leaky faucet. Those are great examples of an inconvenience. Situations like those may change your daily habits, but there are no water leaks or resulting damage.
When your pipes are actually leaking, depending on the rate of the leak, you may have an emergency. Water is unforgiving and can cause a great deal of property damage. A pipe bursting is a good example of an immediate problem causing much damage immediately.
A smaller "pinhole leak", in contrast, sounds fairly harmless. After all, how bad can a hole the size of a pin be in a pipe?
A Pinhole In Your Plumbing Is Very Bad
The constant leaking of a pinhole leak can cause a great deal of water damage. If undetected, the leak will damage whatever is around it. It also can lead to extensive corrosion of the pipe with the leak.
Because pinhole leaks usually are not detected, they are not seen until obvious damage has already been caused. The best way to detect any leaks developing in your pipes is to have an annual maintenance check done to identify small problems before they grow to be larger issues.
Definition Of A Pinhole Leak
A pinhole leak is nothing more than a tiny leak with copper piping. In situations, a pinhole leak is the result of the copper breaking down. There are a few ways this can happen, such as
Poor or improper installation
Quality/chemistry of the copper
Chemicals used in water treatment hastens the breakdown process
Age of the pipes
Local soil chemistry
Given time, pinhole leaks can cause big problems because they are usually undetected. Some examples of the type of damage you can see from a pinhole leak are:
Damage to plaster and sheet rock
Damage to walls
Damage to flooring
Mold and mildew growth
Corrosion in other parts of your system
When The Leak Located Re-Piping May Be Necessary In Middleton WI
The definitive answer is 'it depends'.
When pinhole leaks are detected, your plumber will have to determine the damage. For example, a small bluish-greenish stain on the pipe indicates corrosion is probably minimal and this area can be treated. A small piece of new piping or an epoxy on the outside and inside of the pipe can usually fix the problem.
However, if you have multiple leaks and there is heavy corrosion, a plumber will likely have to re-pipe the affected section of your plumbing system.
Pinhole leaks are common things your plumber checks for as part of an annual maintenance visit. If you have any signs of slight water damage showing in your home, don't hesitate to email or call the pros at Sauk Plains Plumbing and Pumps. If there are small signs of damage, there are probably larger issues behind the scenes. We are experts at dealing with all types of plumbing challenges in Middleton WI. Our experience and knowledge can help you identify any plumbing issues and solve them quickly and efficiently.
We'll be happy to help you solve your plumbing problems and protect your home. In addition to serving Middleton WI, we serve Cross Plains, Waunakee, Black Earth, Mount Horeb, Verona and western Dane County.
We are ready to help with pinhole leaks and all other plumbing problems in Middleton and Cross Plains WI.