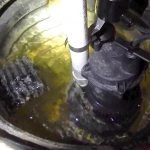 Sump Pumps Require Attention
Sump pumps are critical elements guarding against water damage from heavy rains, snow-melt and local flooding. Regular checks making sure pumps are operational save hours of distress when the spring and summer downpours arrive in Cross Plains WI and the surrounding area. Pumps must work on demand, day and night. When they don't, sump pump troubleshooting is required to protect belongings and your property from water damage.
More than 60% of American homes are subject to some kind of water damage each year because of a failed sump pump, according to the American Society of Home Inspectors. Those failures account for more than $9 Billion in restoration costs. The cost of a failed pump ranges from $500 to $10,000 depending upon on how long the water accumulates and what's stored in the flooded area. Not only are fixtures and furnishings damaged, the whole space is open to mold and mildew.
Because sump pumps often sit for long periods of time without running, periodic checks are in order – especially in southern Wisconsin where hard water can cause buildup of deposits that can clog intakes and moving parts.
A Checklist for Sump Pumps
Even if a pump worked the last time it was needed, and it has never failed, it should be inspected and tested three or four times a year. A sump pump troubleshooting checklist includes:
Pumps Require Activity – A "dry" winter with no early, heavy snow melt or uncharacteristic rains can cause sump pump components to become dry and stiff. A dry pump motor can seize and fail. Prime your sump pump into action periodically to be sure it's ready when needed. Run a bucket or two of water through the system as a test.
Keep It Clean – The bottom of the pump sits in at least a little water most of the time. The residue forms a slimy, gummy build-up as the minerals and contaminants in the water settle. And a hard water crust may form to jam up components.
Electricity is Required – A simple loose plug in an outlet can lead to extensive damage if the pump is needed and cannot respond. Check connections and circuit breakers regularly – especially if the outlet is used for other things and the pump can be accidently unplugged.
Battery Backup – There's always a risk of a power failure during a severe storm – an ice storm followed by heavy rain, or just a summer downpour. A battery-powered sump pump can save the day – and dollars! Installing a second system isn't expensive – especially weighed against the cost of recovering from water damage.
DIY Sump Pump Troubleshooting
With a little effort homeowners can extend the life of sump pumps and protect their valuables. A regularly scheduled pump inspection program should be completed at least quarterly. A simple routine includes:
Mixing a solution of white vinegar and water to run through the system – it will clean the intake and the pipes, removing gummy deposits and hard water crusts
Physically examine the float switch to make sure it moves up and down freely – if it jams or sticks the pump motor may not come on and the basket will overflow and flood the adjoining area
Removing the entire pump assembly from the basket to be sure all the vents, air holes and intake ports and clear of debris and that all the connections to outlets are watertight
There are two basic designs for a sump pump in use today – a pedestal type and a fully submersible version.
The Pedestal Style – This version is the easiest to inspect since the pump itself isn't in the water. Pedestal pumps require little maintenance or troubleshooting but aren't considered to be as efficient or as quiet as submersibles.
A Submersible Version – As the name implies, these are in the bottom of the sump basket and fully covered with water when they are required to work. Sitting at the bottom of the basket they are harder to visually inspect for gummy deposits and debris. Considered more efficient and quieter, access for troubleshooting and repair is more difficult.
Choose A Pro To Protect Your Investment
Sump pump troubleshooting is a cost-effective form of home protection. The trained professionals at Sauk Plains Plumbing and Pumps have decades of experience with sump pumps including maintenance, repairs and installation.
Call Sauk Plains Plumbing today at 608-798-2121, for sump pump troubleshooting and everything for sump pumps in Cross Plains, Verona, Waunakee and Middleton WI.