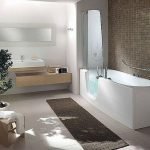 You needn't jump into a major remodeling project to increase the value of a bathroom renovation. Even small changes and upgrades to your Middleton WI home make a big difference. Decisions to upgrade impact your daily life immediately and in the long-run. They enhance your lifestyle and increase your property's value.
The instant you see the finished features in your new bathroom, you appreciate its immediate return. Additionally, when you decide to move the up-dated bathroom provides a solid return on your investment (ROI). A well-done bathroom upgrade returns as much as 50% of the original cost according to national surveys.
Top Bathroom ROI Prospects
Prospective home buyers evaluate three elements perceived to represent the value from a remodeled bathroom:
Bathroom floors – the floor projects the overall new "look." Install a style that is durable and requires little maintenance. Large format tiles that mimic real stone or hardwood are popular.
Bathtubs and showers – the whirlpool tubs of the 1990s are being replaced with free-standing soaking tubs or no tub at all. Don't take out every bathtub in the house, though. A tub is a selling point for families with small children. However replacing a tub in the master bathroom with an expanded, walk-in shower adds value.
Bathroom counters – upgrades should include new vanity, faucets and sinks – more than one sink is extremely popular in master bathrooms. Provide storage – you can never have too much bathroom storage space.
Bathroom Renovation Value – From A Buyer's Perspective
Bathrooms and kitchens are the most important rooms in any house from a prospective buyer's point of view. Adding modern fixtures and materials replacing dated and worn items in the bathroom is a solid investment.
If you're preparing a house for sale, consider updating a bathroom or two. Professional designers and realtors suggest you focus on the visual details. The features that jump out as visitors tour the home. Invest in things like:
Up-to-date fixtures – replace dated faucets, shower heads, etc. with contemporary styles.
Popular tiles – modern, easy-maintenance tiles for floors, showers, etc.
Contemporary colors – a little paint goes a long way, but don't overdo dark colors and avoid ust plain white.
Accent the space – bring in colors with towels, countertop displays and window treatments.
Bathroom Renovation Rates High On The 'Joy Scale'
The day usually begins and ends in the bathroom. It is the space for more than daily prep, it's a place to relax and feel secure. Its function enhances your lifestyle. Renovations that provide resale value in the future, provide immediate value to you every day.
Bathroom makeovers may reflect minor changes like new mirrors, or knocking out walls. Don't forget, however, a plan for the bathroom means working in a small, often confined space. Therefore you have to concentrate on every detail of layout and design.
In a small space a little goes a long way. A renovation doesn't need to be expansive or expensive. Something as simple as changing paint color and window treatments or adding a new vanity and designer mirrors adds a lot.
Professional designers report 75% of homeowners measure renovated bathroom's value in terms of how the changes make their homes more appealing – to them. The family likes the house and neighborhood. They plan to stay. So they are changing to get even more from their home. The National Association of Realtors uses a "Joy" factor to rate how people define value. A new bathroom rates a 10 on the "Joy Scale." That's the highest possible score.
The Right Team Adds Value
Relying upon a qualified professional is a primary step toward a successful renovation. A professional has the right tools, expertise and skill to provide the best "bang for your buck." Additionally, professionals stand behind their work beyond basic product warranty.
With decades of experience and hands-on training, the licensed professionals at Sauk Plains Plumbing and Pumps are ready to answer all your questions. Call or email Sauk Plains Plumbing, 608-798-2121, for top-flight advice and bathroom renovation ideas for your Middleton WI area home.