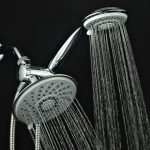 A modern bathroom shower fixture creates a refreshing experience to begin a day or relax after a long one. With all the options available today, you can create an oasis in your Cross Plains WI shower. The first place to begin is with the right shower head.
Which shower head is the right one for your bathroom? In homes with more than one bathroom, more than one type shower head makes sense. Does your spa-type master bath rates a more up-scale version than the guest bathroom or kids' bathroom? There is plenty of styles, colors and designs from which to choose.
In addition, modern shower heads are designed to work differently than older ones. Modern technology provides advantages. Most older shower heads are designed with a cavity that fills with water and forces it out tiny nozzles. None of these small openings has much water pressure on its own. New designs have individual channels for each nozzle, increasing the water pressure. Beyond that, the new styles include steady sprays as well as those that mimic rainfall. Some have pulsing jets and variable pressures.
Selecting From All The Options
There are six basic heads available to upgrade or enhance your shower experience. They range from basic to exotic, including:
Single spray
Rain systems
Hand-held
Sliding bar fixtures
Body spray and spray panels
Ceiling-mount heads
Most shower connections have standardized threads so any wall-mounted style should fit snuggly to an existing connection. However, ceiling mounts and most full-body panels require new plumbing.
Before you decide upon the exact fixture for your shower, consider the size of your shower and your family. The final choice of a spray head depends upon the size of your shower. Small to medium-size bathrooms accommodate small to medium-size showers. Accordingly, a shower with a hand-held, single-spray or rain system head is appropriate. To install multiple heads, body sprays and ceiling mounts you need more space.
The size of your family and the size of its members factors into the selection process, too. Will the kids benefit from a new fixture? A hand-held shower head is ideal for soaking family members of differing heights.
Sorting Shower Fixture Types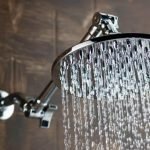 Do you want a traditional-style shower head or is there room for a full-body spray system? Consider fixtures from basic to exotic:
The Single Spray Shower Head – this is the most common fixture providing a single spray pattern with good pressure. It is simple and works well in any small or medium-size bathroom.
The Hand-held Option – hand-held systems require less moving around in the shower. Ideal for smaller showers, older adults, kids and even pets benefit from its mobility. They are often combined with standard type heads.
A Sliding Bar Installation – also ideal for families with kids, a sliding bar system makes it easy to adjust the height of the water stream.
A Rain System Head – provides steady, even flow from above. A relatively new, popular style, these heads provide light water pressure from a head much larger than single spray models.
Full-body installation – these installations include nozzles spaced throughout the height of the shower rather than just one head. Special installation and new plumbing is required. Often included in a spa-style bathroom remodel.
Ceiling-mounted heads – a new, popular trend in luxurious spa-type remodels. The head or a series of heads is built into the ceiling of the shower. These heads provide a steady, even-pressured flow over a large area.
Specialty/High-tech –there are high-tech specialty features available, including built-in wireless speakers inside the shower head. These specialty heads allow you to sync your smartphone to the speaker to play music or audio. Some include LED lighting and thermostat controls, too.
Bring In A Shower Remodeling Pro
Putting in a single shower head isn't a difficult job. Creating a luxurious bathroom retreat, on the other hand, requires a skilled, licensed plumber. To evaluate the choices you have and work out the best installation options, call Sauk Plains Plumbing at 608-798-2121.  Choose a shower fixture and we'll install it in your Cross Plains WI, Verona, Waunakee or Middleton WI home.