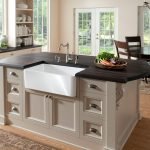 Select The 'Right' Kitchen Island Sink
When you decide to add an island to your kitchen a logical question is: Do I want a kitchen island sink? Including a small, prep sink or specialty sink in your island as part of a kitchen remodel is often debated. Once you agree that a second sink is a valuable addition to your Middleton WI home, the key step is selecting the right one. There's no right sink for every installation. The choice must be made based upon your lifestyle and daily routine. During the hectic holiday entertaining season a second sink may be high on the wish list while the rest of the year it takes up valuable space. Decisions before adding a sink to your kitchen island must be made based on function, not just style.
A Kitchen Island Sink Has Merit
The thought of a second sink in a busy kitchen has taken hold and is very popular in many kitchen renovation projects. The benefits of a second kitchen sink include:
Two sink-related activities can be completed at the same time
There's a sink for food prep and another for cleaning up
A sink in your island turns it into a snack bar – it can be filled with ice and double as a drink cooler
New fixtures blend with décor and become design elements
A sink built into the island is accessible from all sides for easy use
A sink facing the rest of the house in an open floor plan allows for work and socializing at the same time
Space beneath the sink is ideal for storing cleaning supplies, freeing up space beneath the standard sink
There are drawbacks to adding a sink in your kitchen island, including: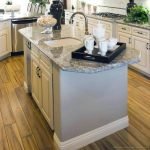 The second sink takes up valuable working counter space
The sink requires plumbing that increases the cost of a oveall remodel
The related plumbing beneath the sink takes away valuable storage space
Smaller than traditional sinks, the second sink may not work as you plan
You find you don't use it as often as you thought and it's another thing to keep clean
A water source in the place used for homework and other activities take place isn't a good mix
Match Kitchen Remodel To Lifestyle
Only you can determine if adding a sink to a kitchen island is a benefit to your family. None of the disadvantages is hard to overcome if the fixture fits your needs. It takes forethought and planning. Once you determine an additional sink fits and will benefit your daily routine, consider your options: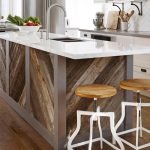 Shape – prep sinks are available in every shape imaginable from round to oval and traditional squares.
Material– even a small kitchen island is a design element as well as a working tool. Sinks are available in all the basic materials plus the hottest new options like copper and quartz.
Style– there's a lot of choose from. Colored sinks make a statement and blend with countertops and cabinets. Specialty fixtures mix with the décor (a farmhouse sink with country-style fixtures may be just the thing!). If you get the style you want in a full-sized sink chances are you'll find a smaller prep sink to match.
Shape – small, prep sinks come in almost any shape imaginable from traditional squares and rectangles to ovals and round bowls.
Professional Installation Insure Performance
 With the kitchen island among the most popular kitchen updates and additions, it isn't surprising that adding a sink is also high on the wish list. Rely upon the trained, licensed professionals at Sauk Plains Plumbing and Pumps for the latest designs and skilled installation. Call or email  Sauk Plains Plumbing, 608-798-2121, to discuss your kitchen remodel plans and choose the right kitchen island sink for your Middleton WI area home.
Selecting The Right Contractor