When it comes to a replacement shower head the number of choices might amaze you. With more styles, shapes, sizes and customizing features available all the time there's one just right for your Middleton WI or Cross Plains WI home.
As the bathroom pulled even with the kitchen as the top site for home remodeling, the shower took center stage. Whether you're planning a total renovation to a spa-like spacious walk-in shower or just in need of a new shower head you have more options than ever. There are finishes from traditional chrome to bronze, copper, black and gold. But the real drama comes in how water is delivered. Do you want an exhilarating blast from a high-pressure nozzle? Or maybe a refreshing sense of standing in a warm rain? You can have either, or both from the same installation.
Consider this general division of replacement shower head choices:
Traditional wall-mounted shower heads
Rainfall-like shower heads
Hand-held shower heads
Variable pressure (high/low) shower heads
High-pressure shower heads
Shower panels
Dual head installation
Ceiling-mounted shower heads
LED-equipped installations
Customized installations
Before making your final choice, take into account the water pressure you have to work with and the amount of hot water you generate. Some shower heads require a lot of pressure to work properly. Others release a larger volume than you expect. Either can put strain on your system and/or hot water heater. Could anything be worse than investing in a prized new shower head only to find you get a trickle instead of a blast?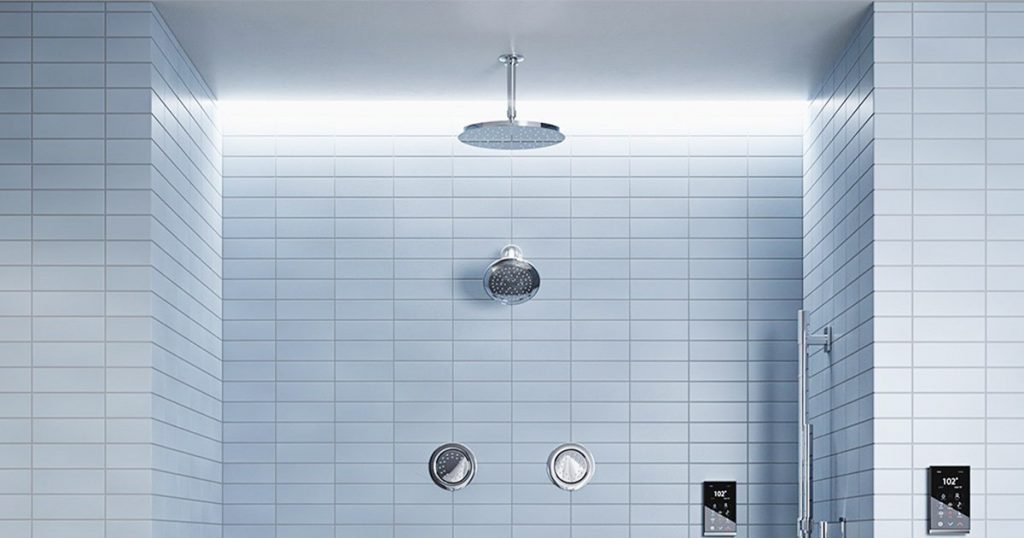 Evaluate Replacement Shower Head Options
Review the options starting with the most common. If you're planning to update an existing installation, chances are the current fixture is mounted on the wall. Unless you're willing to commit to new plumbing, you'll replace it with a similar design. Consider these most common, popular options:
Wall mounted shower heads – a wall-mounted fixture is easy to clean and comes in all the trendy colors. There are shapes and sizes to fit most any shower – and budget. Available with multiple functions that allow changing the spray pattern. You can adjust the angle of spray to some extent but once it's installed you cannot adjust the height. If you're replacing an existing shower head you're restricted to its height unless you are willing to open the wall and move pipes.
Rain-style shower heads – the idea that standing in a gentle rain is booth soothing and a practical way to get clean boosts popularity of these replacement shower fixtures. Many are also wall mounts but custom installations are very popular. The fixture's arm extends farther from the wall than with traditional heads and must be capable of supporting a heavier than normal weight. Common rain heads range in size from 6-inch diameter to more than 12-inch round fixtures. They also come as squares or rectangles. Available in single pressure or multi-function designs. These are particularly sensitive to water pressure for best performance.
Hand-held shower heads – when a shower is used by family members of all ages finding the perfect height for the water source is almost impossible. What seems perfect for a 5-foot middle schooler doesn't fit a 6-foot collegian, does it? Hand-held shower heads provide flexibility to accommodate every member of the family – even pets! They are wall mounted and many combine traditional heads with hose-mounted units.
Shower Heads Go Beyond Ordinary
Would an open, spacious walk-in shower delivering a spa-like experience make a dream come true? You may not have to knock out walls and rebuild to get the results you want. There are custom-looking shower fixtures that deliver water in different ways without the cost of custom installations. Some do depend upon new piping. Explore options like:
Variable pressure heads – sometimes you want a refreshing high-pressure spray and sometime you want to linger beneath a "waterfall," right? A replacement shower head that adjust the flow and pattern of water provides immediate choices from rainfall to massage.
High-pressure delivery systems – a steady stream of water is refreshing, relaxing and invigorating. High-pressure heads deliver a lot of water in a short period of time so consider your hot water capacity. Some are available with multiple spray patterns.
Shower panels – provide not only the feel of a spa, they give you the look, too. Panels deliver a wall of water and can be installed on the walls or from the ceiling. Some feature multiple spray heads and variable spray patterns. The ultimate in luxury with custom features. Unique and impressive they are not inexpensive to buy or have installed.
Dual-head shower installations – looking for a combination of shower experiences, an installation of two heads, usually a rain head above and standard hand-held below.
Ceiling-mount shower heads – if you're looking for a true "standing in the rain" experience and are willing to spend the money to have pipes installed in the ceiling these deliver. Available in many sizes and shapes.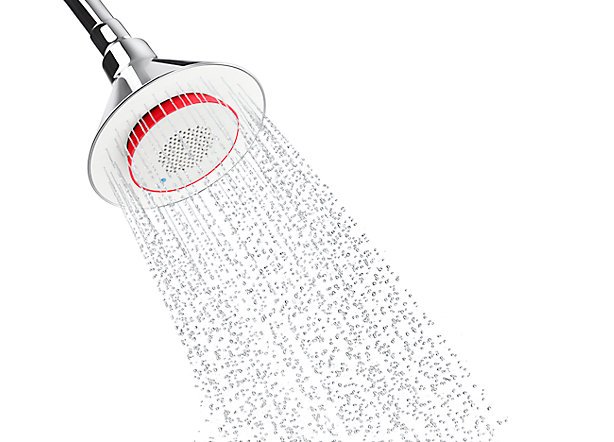 High-tech In The Shower
Technology and "smart" home features found their way into modern showers. Showers in the 21st century provide stimulation for all the senses – touch, sight and hearing. Every shower head replacement provides a special feeling. In addition, there are those that add lights and sound. Go high-tech with:
LED lighting – mood lighting is available as a built-in feature in high-end shower heads. Making the most of LED lighting technology your shower head can add a dimension to the experience with varying color combinations – some change colors with temperature changes.
Temperature controls – systems monitor and program the shower to maintain a pre-set water temperature. Some are capable of automatically adjusting as you shower.
Stereo sound – with the advances in Bluetooth technology, you new shower head can incorporate a wireless speaker so your playlist accompanies your shower.
Don't Undervalue Replacement Shower Head Installation
Whether you begin your day with a brisk shower or end it with one to wash away tension, there's a shower fixture to make the experience special. Shower heads come in so many sizes, shapes and configurations it's hard to sort them all out, right? In addition, some are easier to install than others. Many homeowners make the mistake of thinking replacing a shower head is not a big deal. It can be. Is the aggravation of drips, leaks and poor performance worth it? And, unless you're satisfied with very basic changes, professional installation is a must for high-tech advances.
Whenever you're changing bathroom faucets and fixtures it's wise to rely upon licensed plumbing professionals. Even with traditional hardware are you willing to leave anything to chance? Installation is more than tools and technique. Every new plumbing job must be up to code. And of course you expect it to work as promised the first time.
Don't undervalue the skill and training professional plumbers bring to every project. Call Sauk Plains Plumbing at 608-798-2121. Our staff of well-trained, experienced, licensed and bonded professionals is ready to install any replacement shower head you dream of for your Cross Plains WI, Verona, Waunakee or Middleton WI home.
American Standard Shower Heads