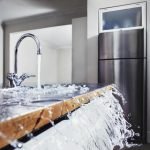 Plumbing Inspections Protect Valued Investment
Routine plumbing inspections protect the elaborate collection of pipes, connections, fixtures and appliances making up your plumbing. That system represent as much as 15% of a home's total value – an investment worth protecting. Simple drain maintenance goes a long way in homes of varying ages like those in the Cross Plains WI and Middleton WI plumbers in the area.
Clean, fresh, available water is vital to a healthy lifestyle. It and the systems that keep it flowing are often taken for granted. Pipes, drains and faucets get little thought until there's a leak, a clog or drip. These little nuisances can quickly become large expenses. Expenses plumbing inspections and regular drain maintenance can head off.
A regular checkup by a professional, licensed plumber can find problems in the making. Plumbing inspections not only spot leads and potential problems, the result conserves water and reduces energy bills. Studies show that a simple drip, drip, drip can waste more than 30 gallons of water a year.
Do Your Own Plumbing Inspections Daily
Protecting your total system begins with awareness on a daily basis. Preventive drain maintenance is the first step – don't let clogs get started. Clogged, slow-running drains are the most common plumbing problem. Unclogging a drain may not be too hard, but being aware of what causes clogs and avoiding them is much easier – and less costly.
More unusual materials go down a sink drain in the kitchen on a regular basis than any other room in the house. Keeping your kitchen sink drains free-flowing is a challenge so contact a Waunakee plumber. The big bottleneck in the kitchen plumbing is always the garbage disposal. Even the best garbage disposal units won't handle everything and anything. Take care with the operation of these valuable machines and consider:
Always get a good flow of cold water going into the disposer before adding anything else
The disposal is the source of the most clogs because people try to get rid of fibrous, stringy food wastes like banana peels, potato skins, celery and similar materials
Large fruit pits and animal bones never should go down a drain
Grease and cooking oil down the disposal drain will coagulate, grab solids and form as solid plug
To make sure the system is free-flowing, run cold water for at least 15 seconds after the disposal is shut off
Focus On Kitchen Sinks
Beneath the kitchen sink hides millions of bacteria not flushed with the most efficient disposal system. They add to a recurring problem – the disposal stinks!
Drain maintenance above the pipes makes problem solving easier:
Wipe down the inside of the sink with a clean, damp cloth to loosen food particles so they flush easier
Kill bacteria by pouring a large pot of boiling water it down the drain – one both sides if you have double sink
Put baking soda in the garbage disposal, let it sit a while then rinse with hot water
Or, rinse the baking soda down with 1 or 2 cups of heated distilled white vinegar – let it fizz for about 5 minutes before rinsing with cold water
Adding an orange, grapefruit, lemon or lime rind helps freshen the disposal, too
Plumbing Inspections for the Bathroom Too
The bathroom is the second-most likely place where drains clog and fixtures leak. Reduce the risk of clogged bathroom drains with basic precautions:
Reduce the use of bath oils and scrubs because they mix oil with hair to form a mass in drain pipes
Regularly remove and clean all the screens on drains – make sure they're all in place to begin with – to reduce hair getting into the pipes
Make sure the only things going down the toilet are materials that are truly flushable
TIP FROM A PRO — Off-the-shelf drain cleaners can be affective for clearing soft materials from slow draining systems, but the same caustic action that fights clogs can harm pipes. Designed to dissolve hair and grease, they can also have a negative impact on old pipes – metal pipes can actually be eroded by chemical drain cleaners. It is dangerous when they contact your skin, get in your eye or when you inhale fumes. Chemicals that splash out of the drain will damage woodwork, tiles  and other things. Establish a drain maintenance program to keep clogs from forming and if they do, call in a professional plumber for a plumbing inspection and to recommend a complete system care program.
Choose A Pro To Protect Your Investment
Sauk Plains Plumbing and Pumps is always ready with a complete line of products for installation, maintenance and timely service – including recommendations for drain maintenance and complete system protection.
Call Sauk Plains Plumbing today at 608-798-2121, to establish a schedule for plumbing inspections in Cross Plains, Verona, Waunakee and Middleton WI.