In an attempt to save money, thousands of homeowners take on the challenge of a hot water heater installation. And, each year what appears as a relatively easy DIY project creates serious problems. Before you take on a critical installation in your Middleton WI home, consider the risks.
Improperly installed water heaters cause fires, floods and fatalities. Consider recent headlines:
DELAWARE, OH — A hot water heater installed by the homeowner and a friend has been blamed for a lethal buildup of carbon monoxide that caused the death of four family members. The family, two adults and two children, were found Monday morning in their suburban home. Investigators traced the source of the toxic gas to a hot water heater installed less than a month ago.
County inspectors report the heater's exhaust pipe was found to be misaligned, allowing exhaust to escape into the home. There's no way to tell if it was not installed correctly or was knocked out of place later, according to inspectors. Officials confirmed that no permit for the installation was on file, and no official inspection was completed – violations of Ohio building code.
Recent studies show that annual damages from a heater installation gone wrong amount to more than $75 million in damage from explosions and fires. The Center For Disease Control (CDC) points out that unintentional carbon monoxide poisoning cause more than 400 deaths annually and sends more than 20,000 people to emergency rooms.
I licensed plumber is trained to troubleshoot installations and avoid serious problems a homeowner lacks the training or experience to notice. They also know the permits required and the regulations to comply with.
What Can Go Wrong With Water Heater Installation?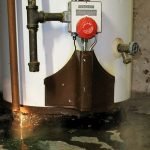 Potential risks from a do-it-yourself installation range from simply installing the wrong size for your home to threats of disease and even death.
To begin with, selecting the right size heater is essential. One that's too small doesn't provide enough hot water on demand and wastes energy. In the long run, the added stress reduces the life of the new heater, too.
Potential threats to your family and property include:
Blocked relief valves – the relief valve is an essential safety feature. It opens when pressure inside the tank gets too high. A blocked or improperly installed relief valve allows too much pressure to build up, leading to an explosive situation.
Gas lines – most hot water heaters in southern Wisconsin rely upon gas as a source for the heating element. The gas lines provide an even flow of gas to the ignition system and burner. Blocked or leaking gas lines create explosion risks. Older brass gas fittings tend to crack when disconnected and reconnected. A licensed plumber knows what to look for and how to test for dangerous cracks.
Improper venting – gases from combustion must be vented to the outside. Improper venting and a phenomenon known as "back-drafting" cause fumes and gases to enter the building. The build-up of carbon monoxide is a lethal health risk. A 20-year-old vent that was fine for the original water heater may not be sufficient for a new one. This is especially true when installing a larger heater with a greater BTU rating.
Thermostat settings – setting the thermostat too high (above 140°F) increases the risk of scalding. Setting it around 120°F conserves energy and helps to prevent the build-up of scale and sediments.
Water leaks – a leaking tank because the new unit's installation is done wrong results in flooding and mold damage.
Professional Water Heater Installation A Wise Investment
The risk of carbon monoxide is worth taking seriously. Professionals know how to match vents with heater sizes – and understand that some water heaters share vents with furnaces. Even a "basic" water heater installation has subtle concerns.
What's the best value from working with a licensed plumber? It may be peace of mind. You know the details have been considered and your family and property is not at risk. Furthermore, your plumber stands behind the installation beyond the product's warranty.
A qualified professional has the right tools, expertise and skill. With decades of experience and hands-on training, the licensed professionals at Sauk Plains Plumbing and Pumps are ready to answer all your questions. Call Sauk Plains Plumbing, 608-798-2121, for top-flight advice, products and water heater installation in your Middleton WI area home.