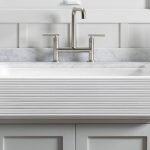 Designer sinks for your new kitchen come in dozens of shapes, colors, materials and styles. Replacing the old one in your Middleton WI home with the newest options isn't always easy. Many require special plumbing that differs from standard installations.
One of the hardest-working and often-overlooked features in your kitchen, the sink has to be both functional and stylish.
With so many options homeowners often choose style over function. To avoid second thoughts later, consider the various functions of your kitchen sink. And then apply those to the styles you like.
Designer Sinks For Your Lifestyle
Your kitchen is likely the hub of family activity that goes beyond cooking and eating. It's the center of socializing, entertaining and family gatherings. The sink is THE workstation in the kitchen. Everything from morning coffee to dinner dishes and every activity in between involve the sink and faucet. That's why choosing the right sink for your family is a vital decision.
Consider the basics: large single bowl sinks and dual-bowl sinks.
Single bowl sinks – especially convenient for washing large, oversized cookware.
Dual-bowel models – these are the standard and have been for decades. They offer sinks for washing and rinsing. Plus quick wash-ups for a multi-tasking homeowner.
There are two additional considerations: undermount sinks that fit below countertop level and drop-in sinks that fit on it.
Undermount sinks – have a modern aesthetic appeal and make counter cleanup faster and easier. They are ideal complements for popular natural stone, quartz and other solid-surface counters. The exceptionally popular apron-front farmhouse sinks are excellent examples of a trending undermount style.
Drop-in options – these more traditional installations come in a large selection of sizes and materials. Among their most appreciated features is ease of installation. Stainless steel is the most popular option with enamel-coated cast iron a close second.
Sinks Stand Up To Daily Routine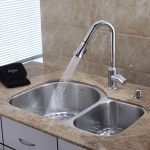 Among the various sink choices a few materials withstand the test of time. Before making a final selection, consider:
Stainless steel –  the most popular choice because it is durable and versatile. In addition it easily matches popular commercial-style appliances. Stainless steel resists chipping and cracking, a valuable asset in a fast-paced kitchen. And, with professional installation, stainless steel sinks reduce vibrations from running water and garbage disposals.
Stainless steel sinks are so versatile they appeal to everyday cooks and home-based chefs. Options include cutting board inserts, sink grids, mobile drainer boards and sinks of different sizes.
Enamel-coated cast iron – Once the standard go-to choice, enamel-coated iron sinks are making a comeback. They offer style combined with function. In many cases they are considered the "prettiest" sink choices. They do, however, scratch and wear with extended use. Professionals warn "these are not the best for people who are hard on sinks…if you like to toss utensils into the sink, consider a different choice."
Solid surface sinks – an integral part of a countertop these are good choices where cleanup is a concern. Without seams the smooth surface-to-sink connection provides a contemporary look. Minor scratches buff out but these sinks are prone to chipping. In addition, a hot cooking pot damages the solid surface.
Composite sinks – among the newer options there are several choices, including polyester-acrylic mixes. They are available in a variety of colors. Unfortunately these sinks are not as durable and may be harder to keep clean.
Sink, Fixture Combinations
For decades the modern kitchen sink has been a double-bowl design. Kitchen sinks with two equal sized basins are designed for washing and rinsing dishes. With the overall popularity of dish washing appliances the sink isn't the primary spot for major cleanup any longer. Therefore options have evolved catering to additional uses. Among the most popular choices are installations with one large basin complemented by a smaller basin .
Placement and design of faucets and related fixtures is a major consideration for the newer, trendy sinks. Common traditional sinks come with pre-drilled drop-in locations that accommodate a variety of faucet styles. Many of the more unique styles and materials require specialized installation – a trending style has fixtures mounted on the adjacent wall. These attractive wall-mounted faucets require the skills of a professional plumber.
Marrying fixtures and sinks is a matter of personal taste. Many attractive options have two handles – hot and cold – but active cooks recommend a single-lever version. One lever requires less effort – especially important when juggling utensils. A mobile spray arm is also a popular feature for filling pots and rinsing. It can be part of the spout – the most popular option in recent years – or a separate piece. Additional features gaining popularity are an "instant-on" hot water dispenser, liquid soap dispensers and a separate smaller sink just for the garbage disposal.
Consult A Plumbing Professional
Choosing the right sink for your kitchen can be a difficult job. There are dozens of shapes, sizes, materials and functions to consider. Newer styles use special fixtures that require installation by a skilled, licensed plumber. To evaluate the choices you have and work out the best installation options, call Sauk Plains Plumbing at 608-798-2121.  Choose from the array of designer sinks and we'll install it in your Cross Plains WI, Verona, Waunakee or Middleton WI home.