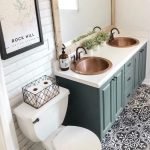 The bathroom sink has taken on an expanded role in modern design. Advanced materials and styles cater to many lifestyles and stand up to daily use at the same time. From classic, under-the-counter models, pedestals and on top of the counter pedestals, there's a sink just right for your Middleton WI home.
In most homes the sink in the bathroom is taken for granted. It's a basin that holds water when it has to. It stands up to rigorous use – and abuse. It has to be easy to clean. At the same time, more and more homeowners are looking at sinks as part of the décor.
Bathroom Sink Options
The list of potential sinks for your master bath, guest bathroom or powder roof is a long one. Options include size, shape, material and fixtures. Changing a sink provides the means to changing the entire feel or a bathroom space. Among the styles and choices to consider are:
A Traditional Pedestal – a popular choice for powder rooms and guest baths where storage isn't important. Available designs range from traditional to sleek contemporary creations.
Under-the-counter installation – clean, modern and distinctive these designs maximize useable counter space. With no rim they are easy to keep clean.
Above-the-counter vessels – going back to the era of pitchers and bowls for bathrooms, many of these specialty containers sit like classic wash basins on top of the counter. Ideal for dramatic impact even in large master bathrooms. Ideal for powder rooms and guest baths where countertop space isn't important. Be sure to take into consideration that counters must be installed lower than standard to accommodate the extra height of the basin. Taller or wall-mounted faucets are also required for these popular choices. These require professional installation and often need new plumbing.
Drop-in sinks – or self-rimming sinks, these standards fit a variety of countertops. They are quick to install and ideal for high-traffic family bathrooms.
Integral countertop sinks – clean, streamlined designs combining counter and sink. One-piece, seamless creations they are easy to clean.
Wall-mounted sinks – a recent trend for basin-style sinks that hang from the wall at whatever height you choose. Available in many decorative styles and materials. Wall-mounts require custom installation by a licensed professional.
Custom creations – One of the most popular choices for small bathrooms is a corner-mounted sink, either as a wall-mount or pedestal installation. They make maximum use of restricted space.
Designers Say "Less Is More"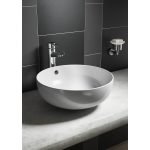 With the growing trend toward clean, simple lines to promote easy cleaning the image of the sink in your bathroom is changing. Hot trends include:
Durable, easy to clean materials are number one on consumer's wish lists.
Unique placement options that create interest – trough-style, custom glass basins, etc. – especially for guest bathrooms and powder rooms.
Industrial-style sinks and heavy-duty looking fixtures.
Custom designed rooms to reflect homeowner's personality and design vision.
Neutral tones and natural materials accented by minimalist-style fixtures.
No matter the primary use for the bathroom, the sink sets the tone. Choose the right sink and build the room around it is the way many designers work.
Create Around Your Sink
Once you've decided upon the perfect sink for your new bathroom the rest of the space takes can take shape around it. Consider the overall dimension you have to work with – existing footprint or expanding? What are the daily demands on the room – plenty of abuse from kids in a hurry or only used by visitors?
Do your plans call for a total makeover or just upgrades to sinks and faucets? New sinks and fixtures give a room a totally new appeal without a huge investment.
Whether you're changing the floor plan or not, direct your attention to the vanity and counters to hold the sink. Storage space is a vital consideration. How much do you need? Does the new vanity and sink combination provide enough deck space for toiletries? Do you need wall-mounted shelves? Will storage beneath the sink work? The most popular trends in vanity design include:
Open shelving instead of drawers or enclosed cabinets – especially in powder rooms and guest bathrooms.
Vessel sinks – custom bowls and basins sitting on top of the vanity countertop. Countertops must be adjusted in height so the top of the sink isn't too high.
Under-mount sinks – providing smooth countertop space.
Floating vanities – suspended styles that appear to come directly out of the wall.
Console sink vanities – very stylish and ideal for power rooms and guest facilities. Available in many trendy designs from farmhouse to ornate.
Colored fixtures are available to accent the extensive palette of colors for walls and accessories. Sink designs complement the overall décor. A colorful sink can be the center of attention or a simple accessory to the overall theme.
Final Bathroom Sink Considerations
Don't forget faucets. There are literally dozens of styles, colors and textures available. There's a styles –  traditional, rustic, industrial to modern – to match every bathroom décor and new sink. Once a sink style, color and size is chosen with a vanity to match the final accent is the faucet. Some sink installations dictate fixtures – a wall-mount or above the counter sink have their own special installations.
Choosing the right sink for your remodeled bathroom takes effort. There are dozens of shapes, sizes, materials and functions to consider. Custom designs with special fixtures require installation by a skilled, licensed plumber. To evaluate the choices and select the best installation options, call Sauk Plains Plumbing at 608-798-2121.  We'll work together to find the perfect bathroom sink to install in your Cross Plains WI, Verona, Waunakee or Middleton WI home.