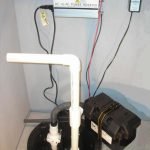 Knowing you have a battery backup pump connected to the sump system in your basement provides peace of mind when flooding rains cover the region. In later summer 2018 many local residents congratulated themselves on the foresight to install a battery backup system – while others lamented not having a backup when their Cross Plains WI or Middleton WI sump pump failed.
The urgency in times of stress is reflected in these real comments from social media coming from Cross Plains in August, 2018…
"Our rain gauge is overflowing and the rain just won't let up. The pump in the basement is running at least once a minute now. You can float a canoe in the backyard and the street out front."

"OMG… we just lost power! The sump pump was being over-worked, now we don't even have it. My poor basement!"
A battery backup pump is like any other insurance policy – you hope you never need it, but are so glad you have it when disaster strikes.
Severe storms that knock out power, flooding rains and rapid snow melt can threaten even the best sump pump system, making a battery backup pump a worthy investment. A battery-powered backup pump isn't a complicated installation nor does it have to be expensive
Since normal pump installations rely upon the home's electric supply, when the power goes out, so does the pump. Heavy rain can overwhelm even a good pump when there is power. And, pumps wear out over time.
Battery Backup Pump –  Protection When You Need It Most
No matter when the main pump fails – or why it fails – the backup is on duty. Battery backup protection is achieved with a simple system:
A large-capacity battery to power the pump.
The battery-power pump – available in several sizes.
A battery charging device – so you don't have to remember to keep it charged.
Additional pipes to discharge the water – local codes dictate water must be discharged to the outside so these pipe will be in addition to the ones for your main pump or can be patched into those outlet pipes.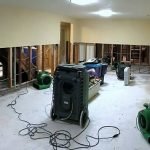 Like most things, top-of-the-line battery backup pumps cost more than entry level units and provide larger battery capacity for longer run times, better and faster chargers and alarms to let you know when the main sump pump isn't working.
As the name suggests, these systems are for temporary use when the main pump is out of action. No battery backup pump will keep your basement dry for an extended time. How long and how well it works depends on the battery and the demand being put on it by incoming water – but it should protect your home long enough to troubleshoot and correct most common reasons for sump pump failures.
Battery backup pumps are positive additions because:
They are simple to install
They provide reliable performance
They are relatively inexpensive – especially when compared to clean up costs and replacement of possessions when the basement floods
They will alert you when your main pump has failed
TIP FROM A PRO — Many battery backup pump systems feature the latest technology including an audible alarm (buzzer, beeping) that are fine if someone is home and awake but not as valuable if you're away during the downpour. The latest models can call your landline phone so ringing can wake you ( some also leave a message) while others send a text message to a cellphone (some to as many as three different phones at once).
No Sump Pump is Maintenance-Free
Every sump pump should be tested and cleaned at least twice a year. When a pump sits idle for extended periods it can corrode and crust from hard water can build up inside. When it's time to work Iit may be sluggish or be too clogged to respond at all. The battery backup pump system requires attention and maintenance, too, including:
Keeping battery terminals clean and corrosion-free
Some batteries require fluid levels to be checked periodically
Charging systems must be connected – to the battery and to a wall outlet
Like regular sump pumps, the battery system should be tested at least twice a year to be sure its running the way it should
Not Any Old Battery Will Do
The batteries used in most systems the kind used in electric boat motors – so they have long run times and hold a charge well. They're not a standard car battery. Like any battery, they don't last forever and will need replacing every 5 years or so (depending upon how often they're used).
Hundreds of local residents are feeling the impact of downpours and thunderstorms that knocked out power, flooded roads and created chaos. Anyone who thought it "can't happen to me," is rethinking based on new video alone. The summer of 2018 proved it can happen tomorrow, next week or next month.
A flooded basement doesn't have to mean 2-3 feet of muddy water swirling through the structure like you see on TV. A few inches of water on your basement floor can result in long-term damage and loss. Consider what may be at stake:
Your furnace
Hot water heater
Washer and dryer
Freezer or refrigerator
Furniture and electronics
Workout equipment
Valuable tools – shop tools, sewing machines
Valuable memorabilia and important papers – cardboard boxes don't stand up to much water and mold/mildew sets in within hours
Carpets, tile and area rugs
Wallboard, paint and all your finishing work
The base of the stairs – wooden framing, etc.
As more and more effort is put into making lower levels into living spaces for the whole family, more is invested in finishing and decorating. That's more to lose from a failed pump.
TIP FROM A PRO — If you're out of town when a deluge and power outage hits and your main pump stops working it doesn't take long for a sump basket to become an unpleasant fountain spilling gallons onto your floor. Even when power is restored the main pump isn't likely to respond in time to do any good. Unless the furnace, hot water heater and other appliances are mounted above the floor itself, they are in danger – if not immediately, from rust and corrosion very soon.
Plumbing Pros Install Peace of Mind
Installing and maintaining sump pumps is critical throughout southern Wisconsin. Rely upon the trained, licensed professionals at Sauk Plains Plumbing and Pumps to determine which pump system best suits your home and the appropriate maintenance schedule to keep it going when you need it. Call Sauk Plains Plumbing, 608-798-2121, or email us, for any sump pump questions and to install a battery backup pump in Cross Plains, Verona, Waunakee and Middleton WI.