In the era of coronavirus hands-free "smart" technology like a high-tech touchless faucet in your kitchen makes sense. Throughout Middleton WI, Cross Plains WI and the entire area homeowners are looking for ways to keep families safe. Is making a change that improves your kitchen's efficiency even better? A hands-free faucet is a timely solution.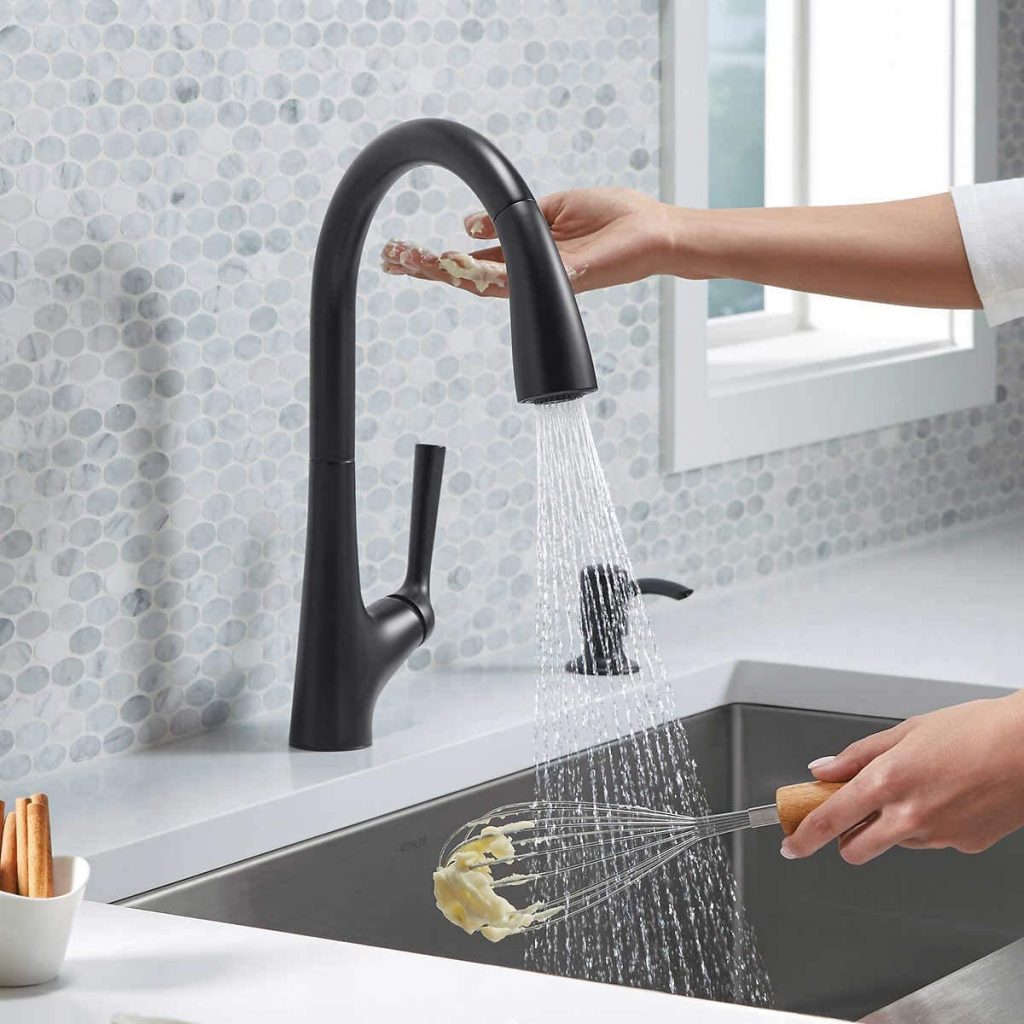 It's no secret, where you prepare your food there's a high risk of bacteria. Bringing home or having groceries delivered the risk of contagions finding their way into the kitchen is higher, too. With more and more family activity revolving around the kitchen there are plenty of "dirty hands" coming and going. How many touch your kitchen faucet? Would a faucet that turns on and off without maneuvering a handle be cleaner and safer? Add this new technology and you don't have to really touch anything until your hands are clean. An activated sensor gets water flowing. Fewer touches reduces contact with germs. Can you believe studies suggest the handle of a kitchen faucet has more than 600 times as many microorganisms per square inch than a toilet handle? It's no wonder the demand for touchless fixtures is growing – and manufacturers are introducing new models all the time.
When A Touchless Faucet Makes Sense
Wisconsin's Kohler Company and the well-known Harris Poll recently ask adults across the country what they thought of touchless kitchen technology. The majority of the people were parents of school-age children. If you're a parent, you know you can track kids through a kitchen by the smudges left on fixtures and appliances, right? The key findings included:
76% said they would feel safer from germs in a kitchen with touchless fixtures.
65% said adding faucets that didn't need someone to physically turn them on and off would be high on their kitchen remodeling "must have" list in the future.
Supporting the study, the American Standard company reports the hottest search word on its website since early 2020 has been "touchless."
Hands-free Faucet Efficiency
Family health and safety is always a concern. Making life easier and kitchen chores go faster is still the No. 1 goal for appliances and fixtures. In any kitchen where cooks are juggling tasks and utensils convenience is important. Convenience and efficiency is where the new technology really shines. Consider these advantages of a touchless system: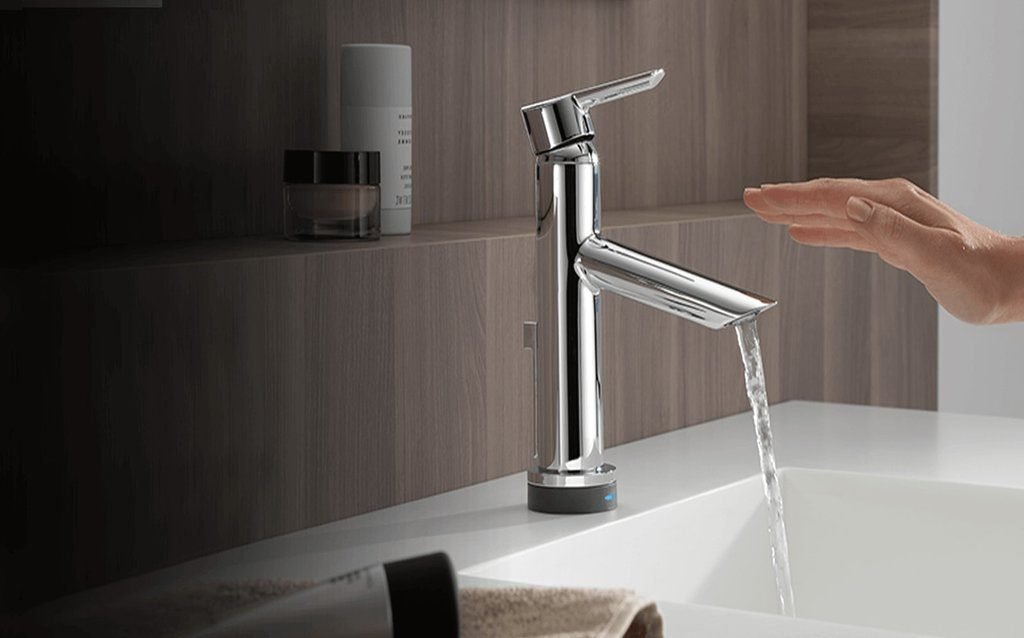 Few "fumbles" – When you have your hands full a sensor turning water on/off is a blessing.
Keeping it clean – No more touching the faucet with dirty or sticky hands.
It's "cool" – Even kids will be more likely to use the high-tech fixture.
Motion-sensing – Generating water flow with the wave of your hand
Voice commands – The latest "smart" technology includes turning water on and off with voice commands.
Versatility – Some fixtures feature a way to change from sensor to standard hand-control when you want.
Smart Fixtures – A Bright Future
It's great to have choices isn't it? Whether you want to wave your hand at it, speak to it, tap it or turn it on as usual, there's a modern fixture for your home.
If you're committed to a fully "smart" home, there are faucet configurations for you. Among the highest of the high-tech options is a faucet connected to a total home system. It can be activated by a "wash my hands" command. A controller turns on the water so hands can be wet and soaped, then it turns off for about 20 seconds for scrubbing. It comes back on for about 10 seconds to rinse. In addition there commands like: "fill the dog's dish." It dispenses a measured amount then turns off.
Are you thinking, "what if I'm moving around in the kitchen will the water keep going on and off if I'm too close?" How does the faucet "know" when it should or should not come on? Engineers designing these innovations are homeowners and have families, too. Their home lifestyles have been the laboratories behind the innovations. They've thought of most things that could be an issue – like a cat walking too close to a sensor.
If you're considering bringing touchless, smart faucets into your home, you're not alone. In the last six months Google searches for the keywords touchless fixtures have increased by nearly 130%. It's true, most faucets that fit the category are for kitchens but there are bathroom fixtures as well. Hands-free bathroom faucets aren't new in commercial settings but they're not common in residential installations. However as our concern for hygiene grows so does demand for touchless applications in the bathroom. Manufacturers responded with dozens of faucet styles from traditional to ultra-modern created specifically for bathrooms.
Go For It – Add A Touchless Faucet
In the midst of a global healthcare crisis or not, it makes sense to do whatever you can to protect your family from germs. If adding new kitchen and bathroom faucets with these high-tech options is safer and more efficient, isn't it worth it? If you're planning to remodel kitchen or bath, put hands-free fixtures high on your list of choices. They come in all the popular styles and finishes – with more added all the time. You don't have to go overboard with "bells and whistles." You can add a higher level of protection for your family and efficiency in your home.
When you're ready for new fixtures to complete your kitchen or bathroom renovation explore you may be pleasantly surprised at what's available to enhance your lifestyle. Whenever you're up-grading faucets and fixtures – high-tech or more traditional – it is wise to rely upon licensed plumbing professionals. You don't want anything left to chance, especially with the new "smart" connections. Everything must be up to code and work as promised the first time.
To explore options for you home call Sauk Plains Plumbing at 608-798-2121. Our staff of well-trained, experienced, licensed and bonded professionals is at your service to install a high-tech touchless faucet in your Cross Plains WI, Verona, Waunakee or Middleton WI home.